Full biography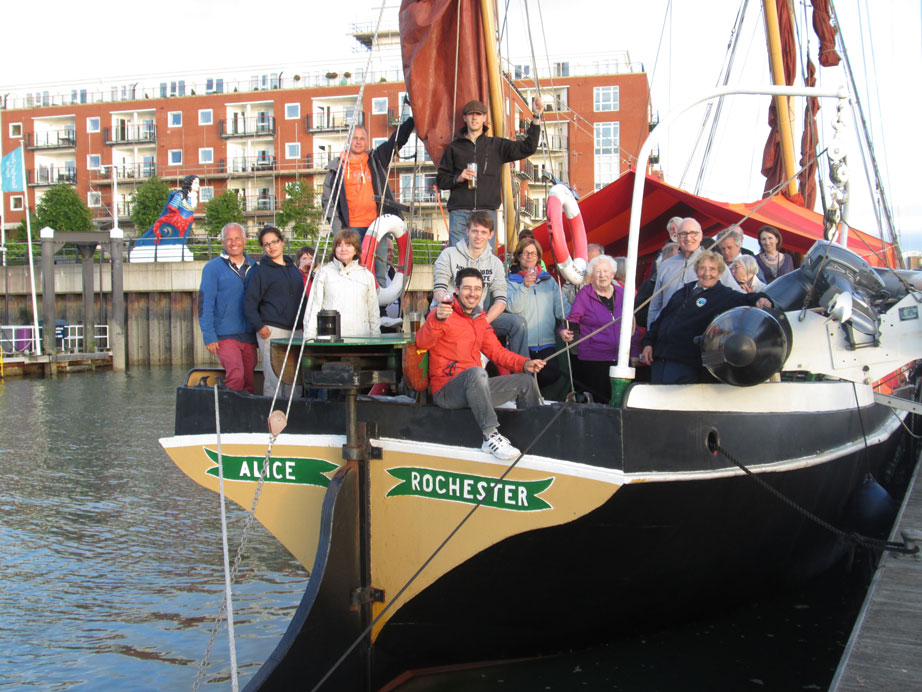 Although she may be big, Alice is far from sluggish. Her sails include a mainsail, topsail, foresail, staysails and mizzen, which span 3,500 square feet in total to catch the maximum amount of wind possible. She also has a 125hp diesel Engine, which was fitted in 2005, to help her nip across the Solent, while being sedate enough to allow you to take in the view. Her 5 KVA generator provides electricity for the barge, and VHF radio is also available.
Her rooms are impressive both in style and stature, coming in a range of sizes with separate crew quarters. The large saloon room, which is 500 square feet and can fit up to 20 guests, boasts 4 sofa beds for overnight stays and includes comfortable seating. Other cabins sleep up to two or three, with Alice containing four 2-berth cabins and one 3-berth cabin. There are 3 toilet facility rooms, one with a power shower and another even has a bath. Altogether, Alice has 15 beds, with all cabins having central heating via a log burner, living areas, large, flat screen TVs and high quality sound systems.
If you're a taller person, there's no need to worry about getting back ache by stooping for the entirely of your time below deck – full standing headroom is 8ft, meaning, even the very tall shouldn't have an issue. This is also helpful for those who tend to get claustrophobic due to the tight confinements of other cabin ceilings below deck.
Also on board is a barge RIB for those who want to take a walk on the wild side. Reaching high speeds up to 50mph, our RIB provides our more daring passengers with a way to see the Solent up close and personal. This speedy little boat takes you on a brisk tour over the waves and ensures you won't be disappointed with your experience.
For those who are worried about safety, in case of emergency Alice has 2 eight person life rafts, as well as 18 lifejackets. Although, the likelihood of needing them is slim, she also has firefighting and first aid equipment for our professional, trained crew to use should the situation arise. Garmin GPS ensures you don't get lost, on the rare chance our experienced skipper, Alan, might have an off day. Our passenger's safety at 4charter is paramount and there will be no corners cut or risks taken to compromise your safety or trust in us. If a passenger has any questions regarding these issues before, during or after the trip, the crew will be more than happy to answer and put your mind at ease so you can enjoy your time with us.